[fusion_builder_container hundred_percent="no" equal_height_columns="no" menu_anchor="" hide_on_mobile="small-visibility,medium-visibility,large-visibility" class="" id="" background_color="" background_image="" background_position="center center" background_repeat="no-repeat" fade="no" background_parallax="none" parallax_speed="0.3″ video_mp4="" video_webm="" video_ogv="" video_url="" video_aspect_ratio="16:9″ video_loop="yes" video_mute="yes" overlay_color="" video_preview_image="" border_size="" border_color="" border_style="solid" padding_top="" padding_bottom="" padding_left="" padding_right=""][fusion_builder_row][fusion_builder_column type="1_1″ layout="1_1″ background_position="left top" background_color="" border_size="" border_color="" border_style="solid" border_position="all" spacing="yes" background_image="" background_repeat="no-repeat" padding_top="" padding_right="" padding_bottom="" padding_left="" margin_top="0px" margin_bottom="0px" class="" id="" animation_type="" animation_speed="0.3″ animation_direction="left" hide_on_mobile="small-visibility,medium-visibility,large-visibility" center_content="no" last="no" min_height="" hover_type="none" link=""][fusion_text]
One of our team members, Michael, is quite the movie connoisseur. He put together a list of 5 alternative Christmas movies for you to check out this holiday season! Let us know which is your favorite and/or if you've seen any of them before!
5. Anna and the Apocalypse:
The first alternative Christmas movie is Anna and the Apocalypse. This film follows a group of high schoolers in a small English town dealing with the usual teen stuff before the holidays: romantic relationships, overly-strict headmasters, and parents away on holidays. To make matters worse, a few days before Christmas, there happens to be a zombie outbreak.
At first, you might think it's a rip-off of Shaun of the Dead, but the style and tropes couldn't be more different. The difference, apart from the teen angst angle, is that this film is a musical. No joke, this film is a zombie horror-comedic-Christmas musical. The fun bit, though, is that while other films would make the songs a satire portion of the film, the songs are rather well-grounded. They talk about how the teens want to leave their existence as high schoolers, and how they dread this new wasteland landscape they find themselves in. Filled with just as much heart as there is gore, if you have a strong stomach, check it out.
4. The Night Before: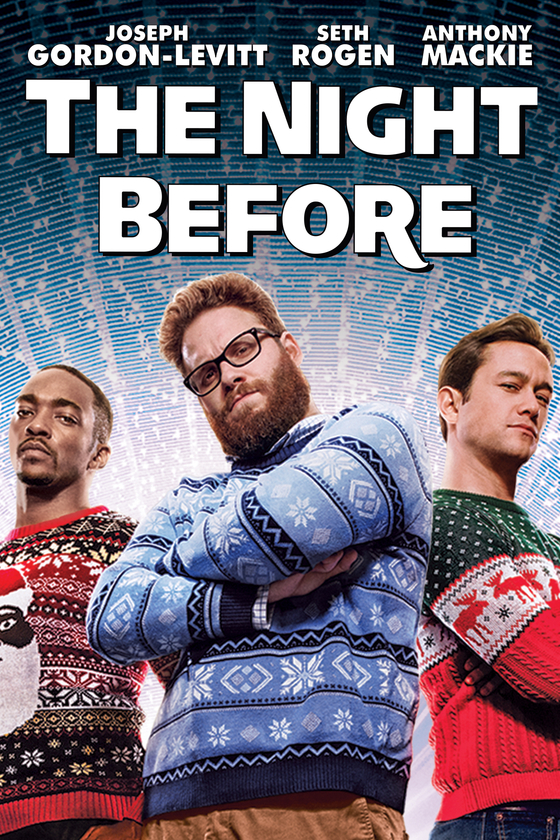 While the concept of a stoner comedy set on Christmas is nothing new, I definitely like this story for its characters and its themes in The Night Before. In summary, a trio of lifelong friends embarks on a "landmark crawl" all around New York City every Christmas. The tradition started when one of the friend's parents passed away. This year is to be the final crawl, ending with the party that has been the easter egg of the New York holiday festivities.
The comedy is probably better for those more accustomed to stoner or slapstick comedies, but the underlying theme of holding onto the past is felt throughout the runtime. It reminds us how sticking to the same old routine can keep us from moving onto better things.  Change is necessary for personal development. As an added bonus, there are so many references to other Christmas films if you look close enough: Home Alone, It's a Wonderful Life, Christmas Carol, and even to the next film on this list. Gather your childhood pals and give it a watch.
3. Die Hard:
Another alternative Christmas movie is Die Hard. This movie follows Jon McClaine, a New York police officer visiting his distant (literally and figuratively) wife in L.A. The purpose of the trip is to mend his relationship with her and join his family for the holidays. While meeting up with her at her office Christmas party, a group of thugs hijack the plaza in order to steal over $50 million in bearer bonds. Being the only officer with a gun in the building, he does what he can to save the hostages and stop the thugs.
This film doesn't have as many Christmas images as the other two listed so far, but as this film has become so ingrained in our pop culture as a Christmas film, I couldn't leave it out of the list. Also, Bruce Willis owns it as the everyman action hero, being likable in his dialogue and highly relatable in personality. It was also a nice change in pace in terms of action films in that, while 80's heroes were muscle-bound and invincible, John is a bit more vulnerable, making him more of a hero you can root for when he overcomes challenges. Plus, Alan Rickman is always a win. Get your adrenaline pumping for this film.
2. The Nightmare Before Christmas:
Many people wonder if this is a Halloween film or a Christmas film. I feel that it is a Christmas film due to its narrative and its animation. After all, before this film, stop-motion was mostly associated with Rankin/Bass specials from the 60's and 70's. The story follows Jack, the Pumpkin King, who has gotten tired of doing the same routine every year. Jack discovers Christmas, which fills him with feeling he can't put to words. Wanting to share the feeling of the holiday best he can, he decides to celebrate Christmas in his own way. He does this by becoming a reverse Grinch (Grinch tried to steal Christmas but doesn't hurt the Whos. When Jack celebrates Christmas, the civilians are horrified and the military sends him missiles).
While the story is rather simple like it's Rankin/Bass predecessors, the popularity of this film is so huge it helped jump-start the trend of doing more genre-bending with stop-motion and providing more adult themes. The songs are as catchy as the images on screen, with singing voices such as Catherine O'Hara, Paul Rubens, and the films composer Danny Elfman. With such a great film as this, you're probably wondering "What's number one on this list of alternative Christmas movies?" Let's get to that.
1. Hogfather:
If you're a fan of alternative Christmas movies, you'll like this one. Hogfather is from a book series that is very popular overseas. Set in a fantasy world (which is a flat disc on top of 4 elephants riding a giant sea turtle in space, I know, weird), a group of celestial auditors wants the Hogfather (this world's version of Santa) dead. Seeing as the Hogfather is tied to the sun coming up, the Grim Reaper takes up the role of the jolly man in order to keep the belief alive while his granddaughter sets to solve the mystery of the red-suited one's disappearance. An easy way to understand the tone of this film is if you took Doug Adams' writing in science fiction and applied it to fantasy.
The film also can be complex but fascinating in its explanation of things, like how the Hogfather is able to get to all the children in one night by occupying a congruent reality adjacent to our own. The acting is top-notch and the writing is excellent, taking large portions from the book, which was written by Terry Pratchett, by the way. If you like Hitchhikers Guide to the Galaxy or if you liked the Good Omens miniseries, definitely check this one out, but keep in mind this is a 3-hour miniseries so be ready for long runtime.
We hope you enjoyed this list of alternative Christmas movies! If you ever want to chat about movies, Michael is the person to talk to! Merry Christmas + happy viewing!
[/fusion_text][/fusion_builder_column][/fusion_builder_row][/fusion_builder_container]